The Early Stages of Your English Bulldog Baby
Many adopters have questions about what their baby English Bulldogs are up to while they wait for them to grow. Below is baby english bulldog puppies week by week.
Week 1
The newborn bulldog puppy is under intensive, 24/7 care. Variables such as temperature, air movement, and nutrient intake must be tightly controlled. This critical time period is very important to provide a solid foundation for a bulldog puppy's life. Puppies are kept separate from their mother to ensure they are not laid on nor neglected. We prefer a 2 ½ hour feeding interval at this stage of a puppy's life to ensure that proper weight gain is attained although most times a puppy will often lose a little weight during their first week of life.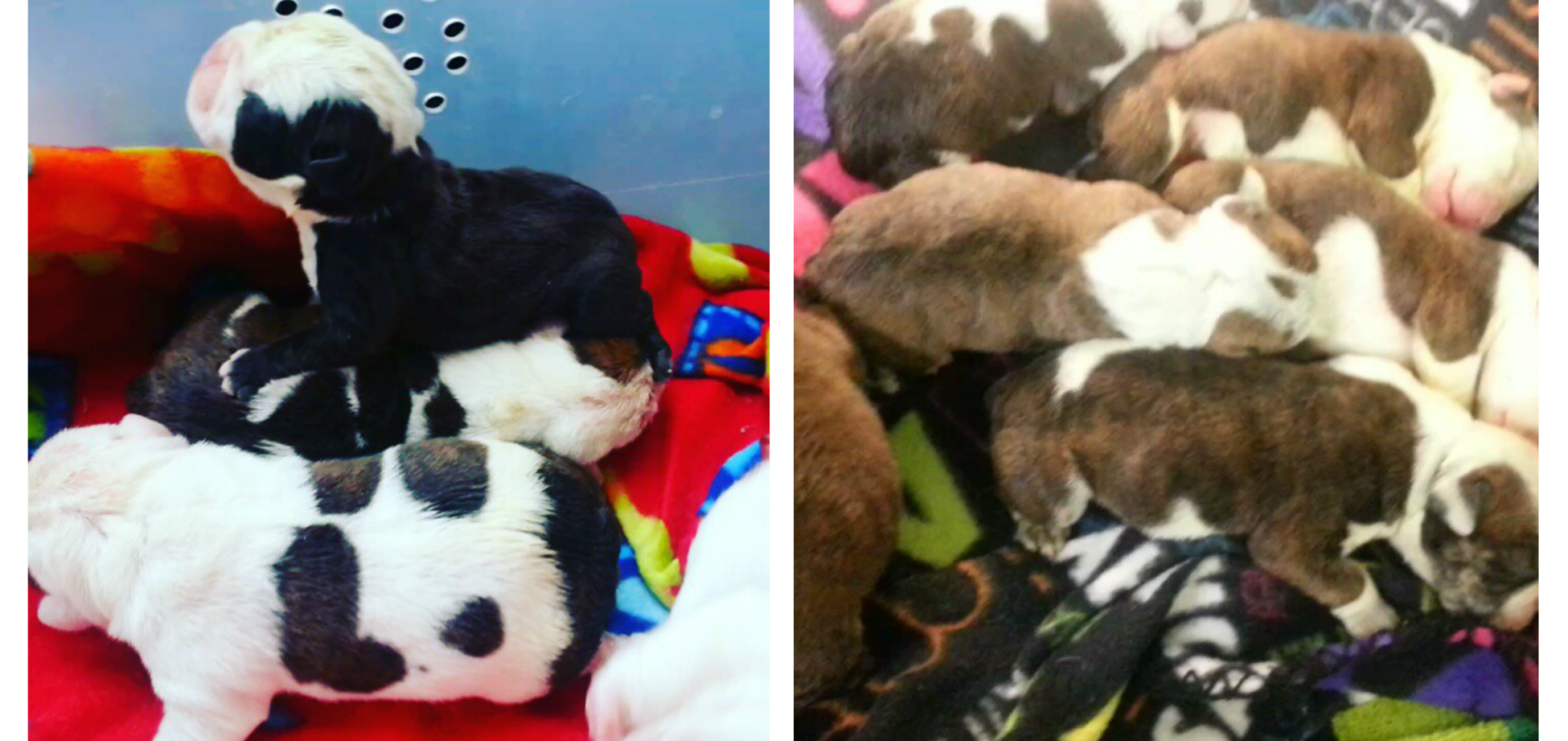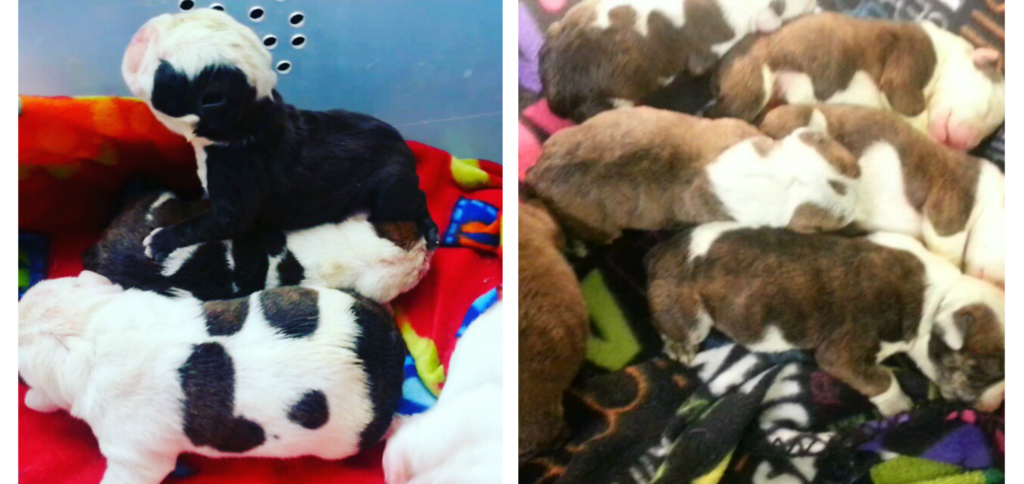 Week 2
At 2 weeks of age, the young puppies are still under 24/7 care with feeding intervals hopefully around 3 hours apart. There are notable developments as the puppies should be stronger and able to find and latch onto the mother's teat with increased vigor. Your English Bulldog Baby at this age, most often do not have their eyes open yet. Instead they rely on their sense of hearing to know where their mom is and the other littermates. Without eyesight and given their small stature, we still separate our bulldog babies from their mom's after they are done feeding.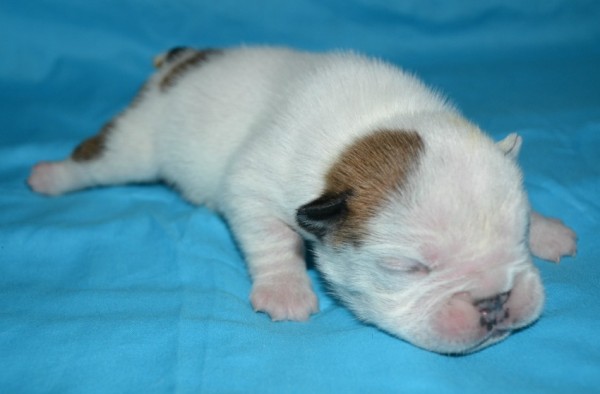 Week 3
The third week of life is a big week as major, physical development and progress are made during this week. The baby bulldogs should begin cracking their eyes open and begin developing their new found eyesight. Increased visibility adds a small level of independence that is certainly appreciate. The young puppies are now able to locate their mother and nurse more consistently on their own. During this week, we most often make the decision to leave the litter with their mother permanently. Mom will take on the responsibility of not only nursing the puppies but also cleaning up after them. This also means we are able to get a full night of sleep! From a social standpoint, each puppy's unique personality starts to show itself. This is certainly a fun time for us as we get to enjoy and discover each puppy's likes, dislikes and sometimes quirky behavior!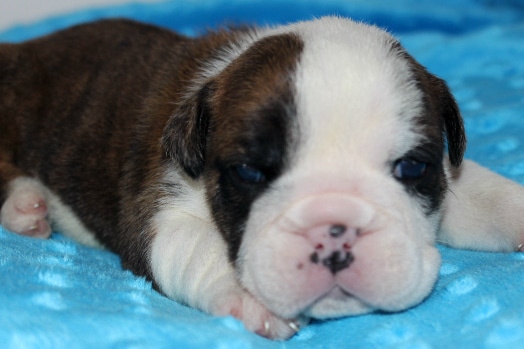 What do we look for in a good Bulldog mother?
1. Bulldog mom has to have a genetically clean pedigree history. We make sure each bulldog line that we produce has the best chance to stay healthy and happy.
2. Bulldog mom has to have a great personality. We demand that all the bulldogs we own are extremely confident and great with both children and other pets. Breeding bulldogs with great personalities is very important as many social traits are passed from the parents to the baby.
3. Bulldog mom has to have a great maternal instinct. Because the babies are so vulnerable we try to select and keep female English Bulldogs that show endearing and caring traits towards their babies.
Week 4
Week four is our walking week! While bulldog puppies do begin to walk earlier at times, typically during week four we begin to see some major walking. The new found mobility is a joy to watch but does present some different types of responsibility as our bulldog puppies certainly can get themselves into trouble! The baby bulldogs are still nursing with their mother as we are big advocates of the nutritional value that a bulldog mom's milk provides. Bulldog puppies are more likely to fight of sickness and diseases while they are on their mom's milk and are generally healthier long-term if they nurse at an older age. During this week, we will start to perform some basic socialization steps to ensure that they are prepared for their new homes.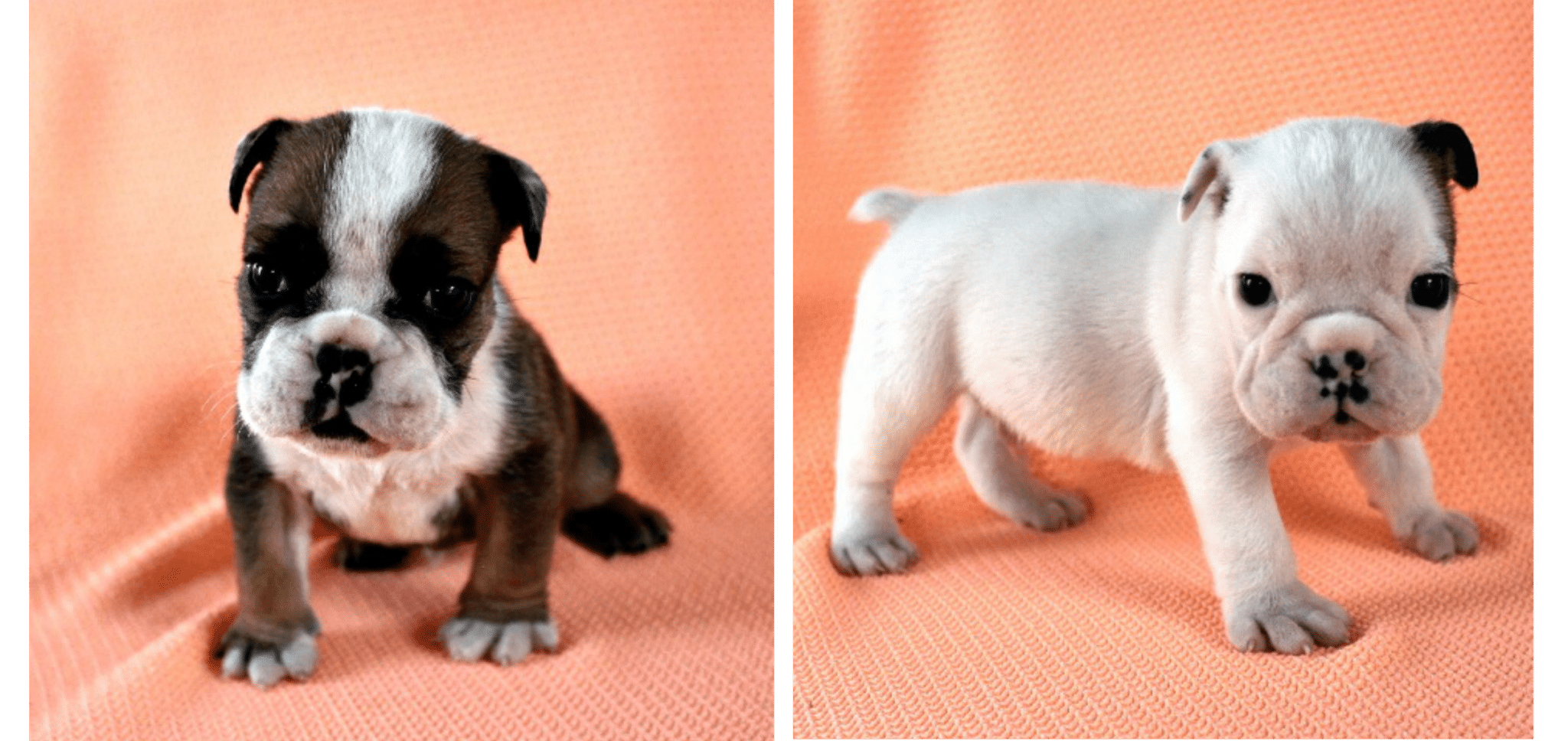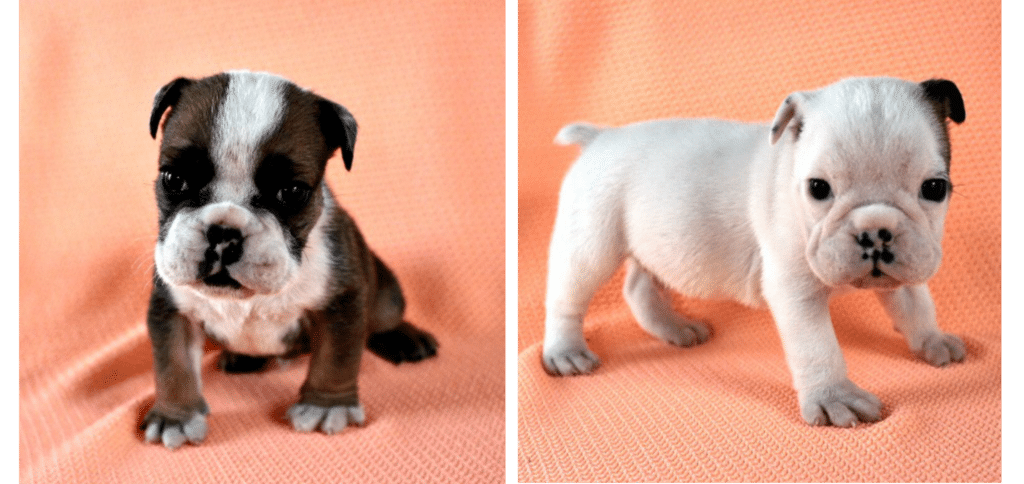 Week 5
The puppies are now able to run, chew, and yes, sometimes bite! Ouch! With the physical progress there are certainly ample teaching opportunities to develop these little guys into well behaving bulldogs. During this time we continue to analyze each puppy socially and develop unique, social profiles of each bully. The puppies start to focus less on physical survival and devote much of their time to playing with their littermates. This is a great learning environment for the puppies! We will also begin weaning the bulldog puppies from their mother by separating the puppies from their mom and providing high end puppy chow mixed with goat's milk or water. This mushy treat quickly becomes a favorite for the pups.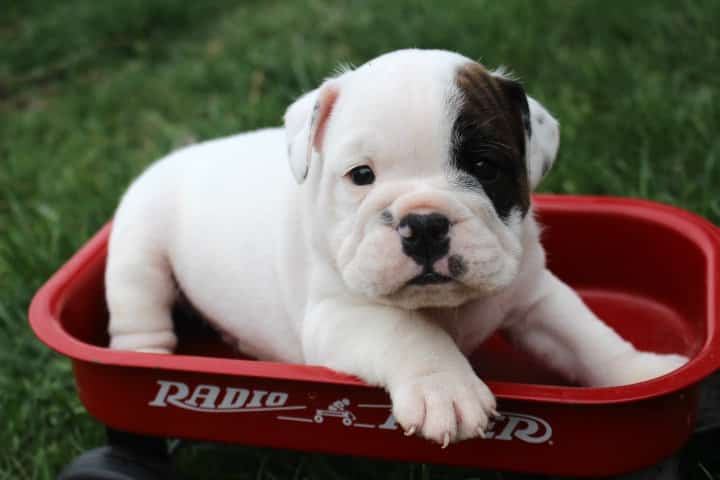 Week 6
Now that the puppies are off their mother's milk, substantial weight gains often occur during week 6. A robust bulldog puppy can now weigh around 5 pounds. The immunization benefits of mom's milk begin to wear off and the puppies are able to be vaccinated from diseases that could potentially harm them. The puppies will also undergo their first round of vet checks to ensure they are developing physically sound bodies. Socially, we continue work with the puppies to ensure they are exposed to the many different environments of the new homes they will be going to all while balancing a high level of biosecurity to ensure they are not exposed to harmful diseases to ensure for a healthy English Bulldog!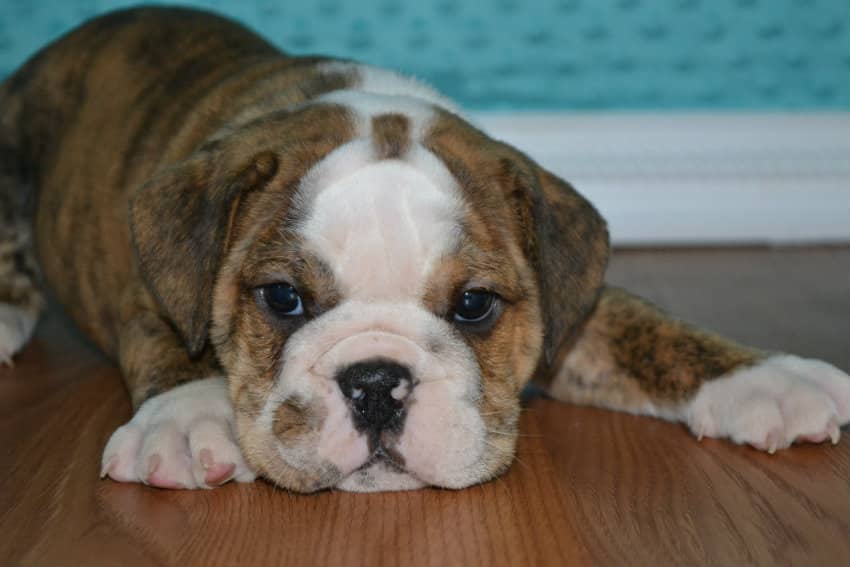 Week 7
We like to call this week "Attitude Week" which compares similarly to the "terrible two's" of a toddler. The puppies are now old enough and confident enough in themselves to begin developing expectations. Being held and being fed are no longer special occasions rather they are rights to life that are demanded. We continue to provide the high level of care that we hold ourselves to while developing flexibility within each bulldog pup.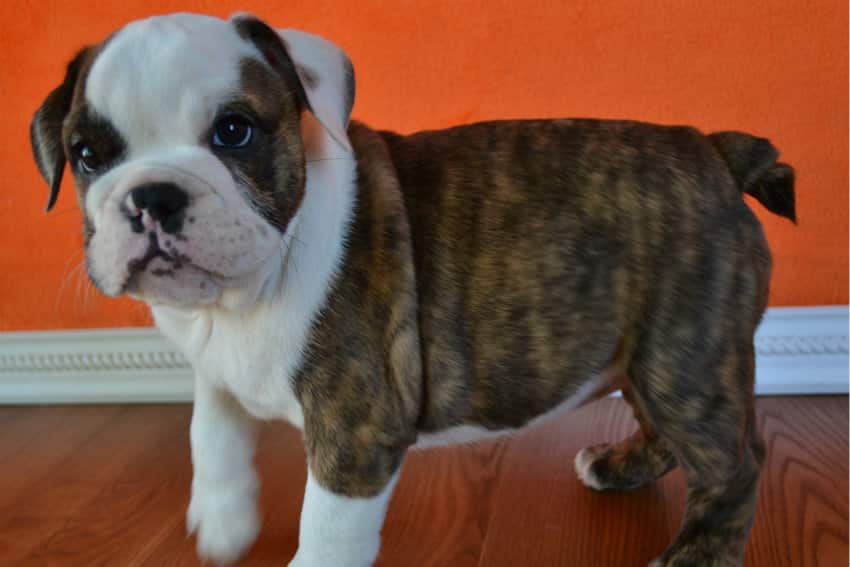 Week 8
The theme for week 8 is adoption preparation. The pup's second vet check is conducted to ensure health and additional vaccinations are administered. We will make a decision with our vet the age in which the bulldogs are able to be taken home. The primary variable within this decision is physical development. We are big believers of making sure the puppy is "ready" before they are allowed to leave our care. Most of our bulldogs will go home right around the end of week 9 all the way to week 10. It simply depends on the bulldog. At this point we encourage our adopters to finish prepping for their puppy.
We

recommend

checking out these additional pages on our site to learn more about bulldog care
Important tips how to better care for your bulldog here: English Bulldog care tips

Check out our homepage for a brief overview of our program: Home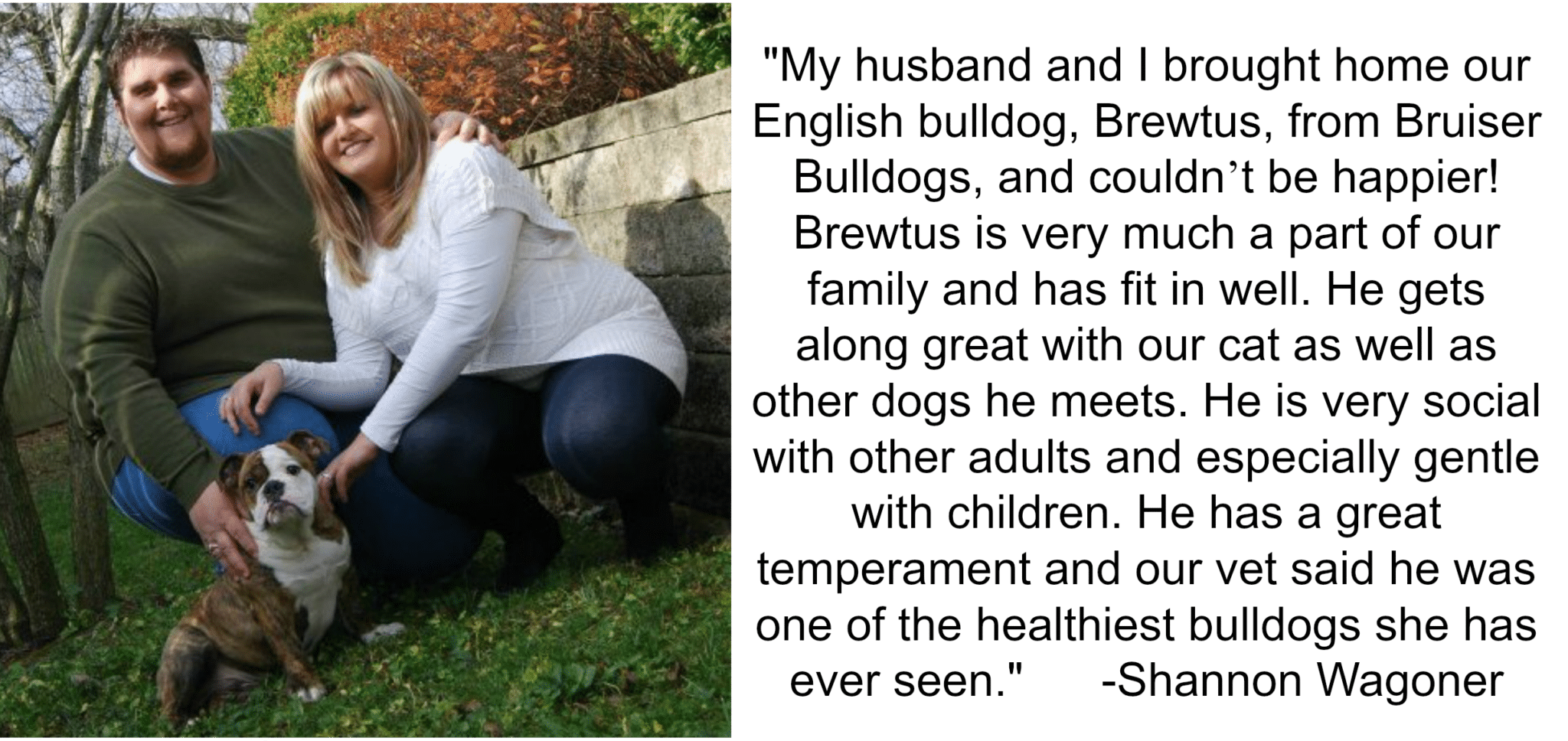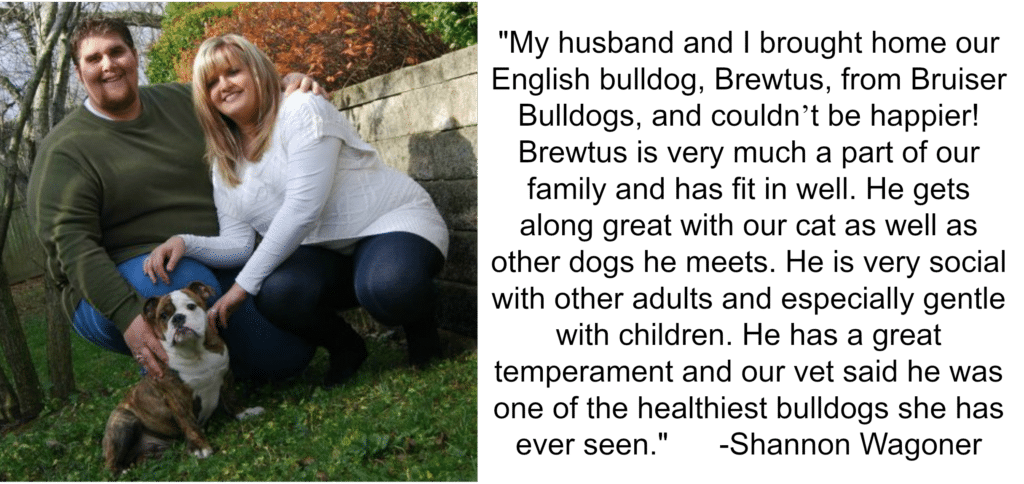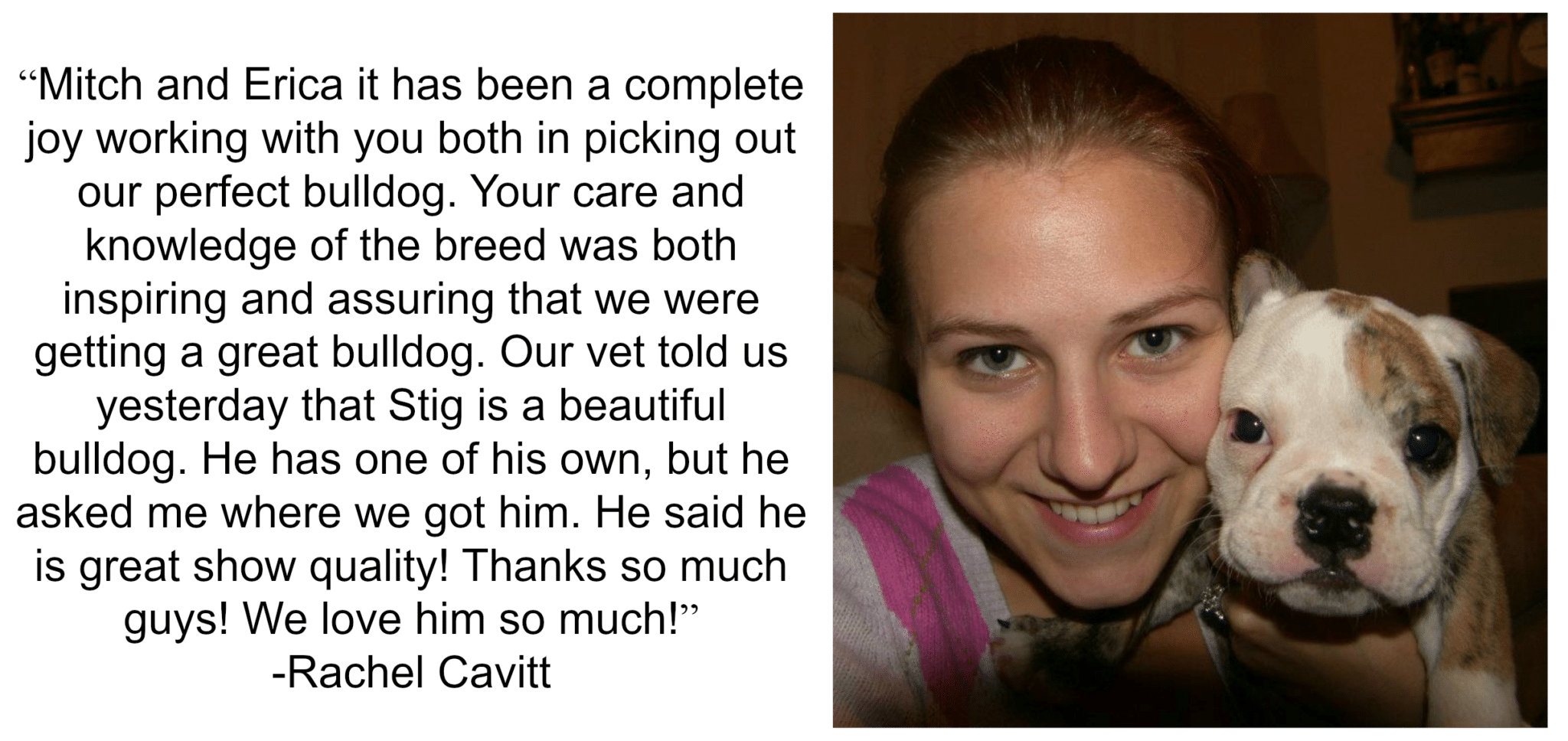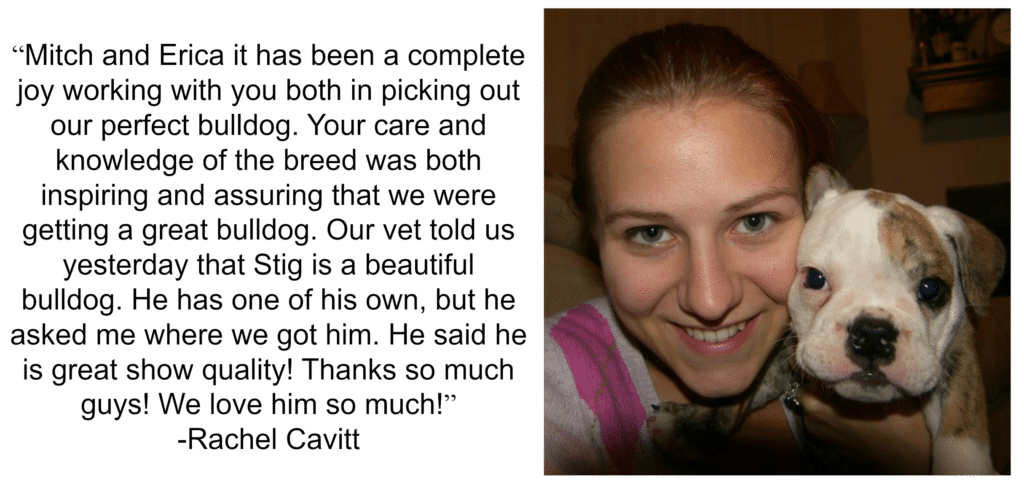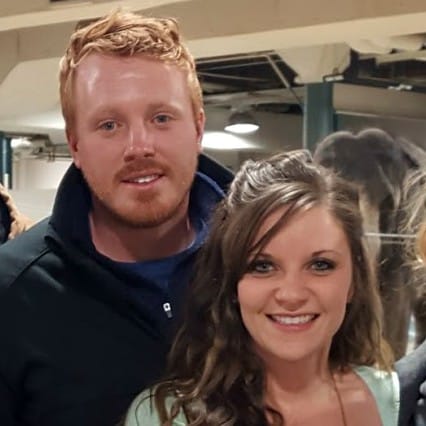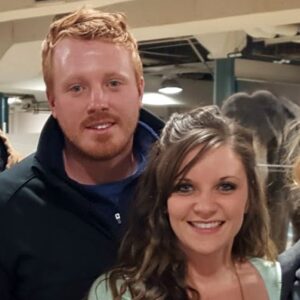 Greetings from the Wysongs! Northern Indiana based, Bruiser Bulldogs offers purebred English Bulldog Puppies for sale to loving adopters seeking to find a higher quality English Bulldog. As English Bulldog breeders, Mitch and Erica Wysong have dedicated themselves to a lifelong journey of changing the culture and societal pressures of poor breeding practices within the English Bulldog Community.
Mitch and Erica believe in producing a healthy English Bulldog puppy first and foremost. Through years of research and development, Bruiser Bulldogs is leading a new movement away from the overdone, wrinkled bulldog that has been long plagued by health problems. By embracing a healthier, more athletic look they are able to ensure that each and every English Bulldog Puppy for sale by Bruiser Bulldogs is supported by a platform of health tested, clean genetics.
Upon adoption, each family that takes on the responsibility of a Bruiser Bulldog enters into an active and vibrant communal family of bulldog owners. Mitch and Erica believe it is their responsibility to provide emotional and mental support for the lifetime of each and every English Bulldog puppy they produce. To ensure the success of every adoption, Bruiser Bulldogs will always be committed to helping Bruiser Bulldog adopters care for their English Bulldogs to the best of their ability.
Bruiser Bulldog's Reviews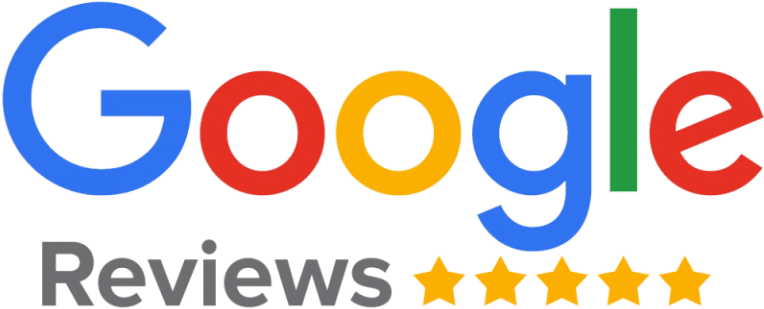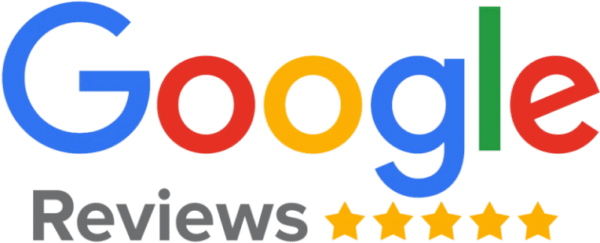 I've grown up with english bulldogs my whole life. I am familiar with common and uncommon health problems they may face so when my boyfriend and I decided we were ready to adopt our own english puppy finding a reputable breeder that prioritizes health was most important to us. Erica and Mitch of Bruiser Bulldogs are just that. They are experienced, ethical and quality breeders. I was referred to them by my friend that I trust after I saw their gorgeous healthy puppy. Our Puppy Primrose is the light of our lives! Bruisers was there to assist us every step of the way. We would highly recommend Bruisers Bulldogs to anyone looking for their own happy, healthy pup!

We, like many of the other people who found Bruisers, did a lot of research to find a responsible breeder, especially since English Bulldogs can have health issues and because there is a trend now for "trendy" bulldogs (blue, etc.) which have even more health issues. We were lucky to have come across Bruiser Bulldogs and even more so the fact that they were near our family and hometown made it even better. We have had Clementine (Callie) for four months now, and she is a wonderful dog. Her personality is amazing, and I think part of it is breeding and the other part is Erika and her family lovingly raising the puppies in their home with plenty of attention and snuggles. I also was impressed that, rather than send the puppies out right at 8 weeks, Erika kept ours for a few extra weeks because she was tiny and not read to leave her mom yet. It's that care that differentiates Bruisers from other breeders.

We found Bruiser Bulldogs after researching healthy breeding line for bulldog puppies. Erica was easy to work with thru the entire process from application to adopting and now beyond as we host our new family member, Chief. Her on-call support and willingness to provide open, honest advice to all of our questions and concerns continues to be appreciated. We would highly recommend Bruiser Bulldogs to anyone looking for an English Bulldog to join their family.

Bruiser Bulldogs are 5-star breeders! They are experienced, responsive and knowledgeable about all things bulldog related. They went above and beyond for us and are truly dedicated to all of their pups! We love our little girl so much and would recommend Bruiser to anyone looking for a healthy beautiful bully.

Bruiser Bulldogs is a 5-star breeder in every way. Erica and Mitch are trustworthy, excellent communicators, fair, passionate, and produce the best bulldogs.We were at the top of the waiting list for months and Erica reached out every litter to see if we were finally ready for a bulldog. When we were, she was very easy to work with. Her knowledge on bulldogs is outstanding. We had many questions on the process and she always knew what was best for the puppy.We've had Penny (formerly Blair) for two months and she is very healthy, energetic, playful, and sweet. She is great with other people and dogs. We are so happy with our pup.When we are ready for bulldog #2, we will only consider Bruiser Bulldogs.

We waited a while to write this review so that we had a better sense for the overall health of our Bruiser Bulldog "Bowser". Bowser was born April 2020 and is an integral part of our family. When we were first exploring English Bulldog breeders our biggest concern was the overall health of the dogs. We decided to work with Erica at Bruiser Bulldogs because we liked their focus on improving the breeds breathing abilities and the fact that the puppies are raised within her family environment before coming home with their new owners.As for Bowsers health, he's a health energetic English Bulldog that has no problem keeping up with the kids, going on 2 mi walks and camping with us on a regular basis. Bowser also breaths clearly and our vet was impressed with his overall health from the moment we brought him home. All that said we know English Bulldogs have a predisposition to many health issues and that his current health can not predict the future. With that In mind its important to start with a breeder that open to answer any of your questions as Erica has ours, and that strongly believes in improving the breeds overall health profile.

After the loss of our first English Bulldog due to health issues it was very important for us to find a breeder who did not breed only for aesthetic but more importantly for health. My sister ended up finding Bruiser Bulldogs and we knew right away that they were the breeder for us.In September we ended up driving 9 hours to pick up two Bruiser bulldog puppies- one for my husband and I and one for my mom. Jackson and Penelope have been nothing but a joy. They are very social and very friendly to everyone they meet including kids and other dogs/animals. They are both very athletic and healthy. They are also HUGE snugglers and always want to be with you. It is an absolute pleasure having these two bullies in our lives! My sister and her fiancé also fell in love with them and now are on the waitlist themselves for a Bruiser bulldog!Erica is very knowledgeable about the breed. She is very hands on throughout the process and is just overall a kind and honest person to work with.With all that being said I cannot recommend Bruiser Bulldogs enough!

We fell in love with our puppy the moment we saw him. One of the reasons we chose Bruiser Bulldogs was due to the claims about breeding for health. During our first visit at our vet's office, he told us that our pup was one of the healthiest English bulldogs he had ever seen. He is healthy, happy and social. Would recommend to anyone.

What an awesome experience! We seen our dog on their website and sent them an Email. Mitch called us and personally walked us through the process and made sure we had the right dog for our family. We couldn't be happier when we picked up our dog Ramsey, Erica made sure we had everything we needed and then some. They are truly amazing people who breed truly amazing dogs!