What size of crate should I buy for my puppy?
What size of crate should I buy for my puppy?

One of the first steps in preparing for your new bulldog arrival is purchasing a puppy crate. Here at Bruiser Bulldogs, we are big advocates for crate training (we will go into one important benefit of crate training later in this article) and selecting a proper crate is naturally a very important first step.

Choosing the correct crate, the first time, can not only save you money and hassle; it can also jumpstart your potty training program. The size of the crate is important. We recommend that you buy a crate that will fit your puppy to adulthood. Rather than buying a new crate each time your puppy grows out of one, we encourage you to find a crate that comes with a divider. The divider will adjust to fit your 9 week old bully all the way up to your full grown, adult Bulldog. A large crate can save you both money and time shopping for multiple crates!





Now you may be thinking that a large crate would be a wonderful idea because your puppy will have lots of room to sleep and play when you cannot be home. This thought process is not completely true and here is why. Your puppy will more likely struggle with the potty training process in a larger crate. Larger crates actually elongate the potty training process, causing a stressor in both you and your bulldog's life. The flaw to a crate that is too large for your puppy is as follows, they will do their business (potty & poo) in the back corner and then take a nap in the clean front corner all the while learning that they can use their crate as a bathroom and sleeping quarter at the same time. A bulldog that becomes comfortable with urinating and defecating in their crate instantly becomes much harder to potty train. The divided crate begins to orient your bulldog puppy to the consequences of a potty accident. Suddenly, peeing anywhere and everywhere is not quite as fun as it used to beJ This process will create a trigger in your puppy's brain to hold it until they are let outside which will result in a speedy potty training process!

Recommended Crate size:

English Bulldog 36"
American Bulldog Female 42"
American Bulldog Male 48"
Here are some top notch crates that Bruiser Bulldogs recommends:

Midwest Life Stages Double-Door Folding Metal Dog Crate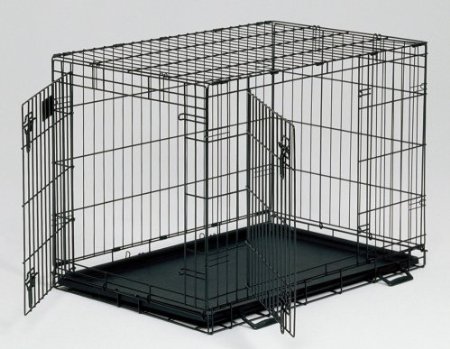 Petmate Home-Training Wire Dog Kennel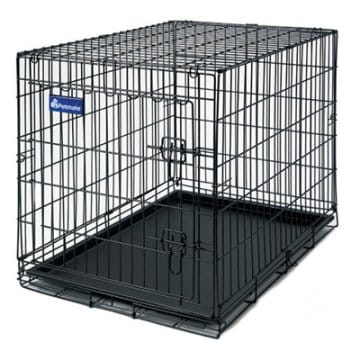 EliteField -Folding Dog Crate